Hello again.
First off, thank you so much to all those who reached out and shared words of love and encouragement in response to my first post. Your support means so much and really reinforces my willingness to be open about my story and share my journey. I love you all and am truly grateful for the compassion and love you shared with me.
For the second post, I thought I would share a bit about my training in becoming a yoga instructor. I had been thinking about doing a 200-hour level training for several months and contemplating the right time. With graduation from graduate school approaching, I figured the months following would be a good time to take on something big like a training. So, I sought out support and recommendations from friends and those whom I already knew in the yoga community. After looking into several programs, I landed on the one at South Boston Yoga (SBY). The feedback I received from those who knew the owners was promising and after attending a few classes and introducing myself to David, I got the sense that the community that had been built around SBY was one that closely matched my values. Having gotten to know David and Todd more, I've learned that they both value community building, bringing yoga to those who typically wouldn't have access, and being inclusive of multiple people regardless of their ability, status, or history. Both are passionate about sharing their skills and were incredibly accepting and welcoming.
Note if you're looking for a training: Do your research! Attend classes at studios you're considering, talk to those in the field, approach teachers whom you admire and ask where they received their training, introduce yourself to studio owners, and don't be afraid to ask questions. Picking a studio that matches your values and goals is super important. You'll be building strong bonds and developing a community, so give it the importance it deserves.
Arriving the first day, I was nervous and super excited to start this journey. Who would be the other trainees? How would the instructors be? Being back in the classroom was exciting and I was ready to learn new material.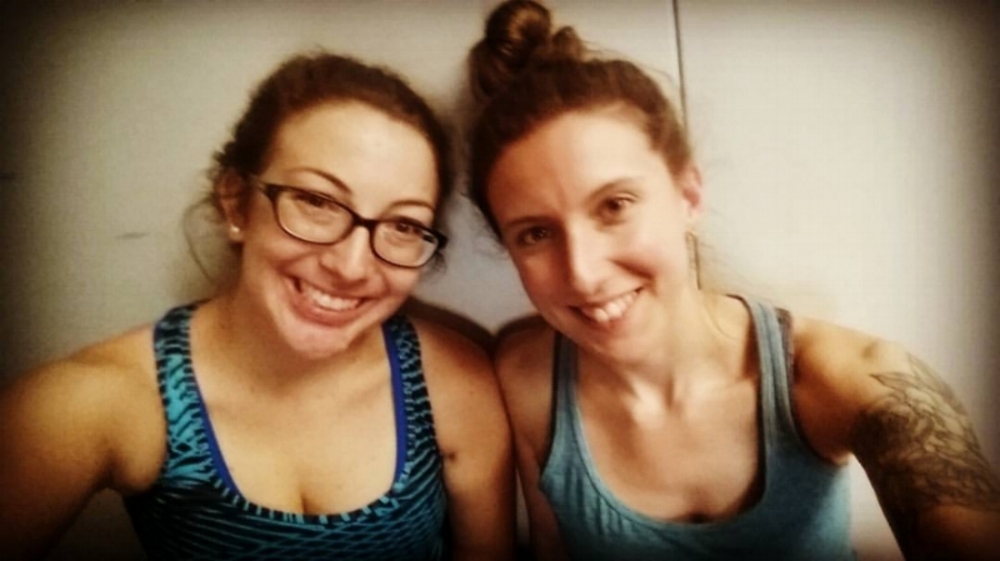 Even better, my bestie, Alyssa, had decided to start her own journey and to share it with me. Having her loving presence around and being able to grow together was an experience I'll never forget.
Although I had decided to take the weekend version of the training, we all started together for a 9 day intensive. What I didn't think about going into the training is that we would be doing yoga every day..#yogaeverydamnday for real! Our practice lasted anywhere from an hour to 2.5 hours, which can take a toll on the body and mind. Going through this challenge brought incredible lessons. Practicing for this amount of time daily required me to listen to my body's limitations and be patient with myself. At the 6 day mark, my wrists began to ache, my muscles sore, and my stamina low. I quickly learned that switching to dolphin pose from downward dog allowed me to stay in the practice. Placing my knees down in plank and side plank gave me the much needed break to continue pushing through. I practiced acceptance of my physical limitations and learned that my body and its abilities do not define who I am. These were valuable lessons for my own practice and as a teacher as I guide others through their own struggles and journey.
Our daily lesson also included meditation (dhyana), breath work (pranayama), philosophy, sequencing (asanas), and anatomy. All of these practices challenged me to take a deeper look at myself, discover where I presently am and where I've been, and mold myself into the teacher I want to be. There were moments with much laughter and periods of deep emotional release. At times, I felt completely cracked open, having my past and present struggles flooding in, but as Leonard Cohen would say, "There is a crack in everything, that's how the light gets in."
It was also a pleasant addition to cover some of the basics of creating a yoga business. While there are many noble and social justice reasons to do and teach yoga, many of us would like to be able to eat and afford a roof over our heads in the process. We learned that having things like liability insurance and waivers are important. What to think about in terms of adjusting to different studios and going on auditions. We also played with marketing ourselves, including making posters for future classes.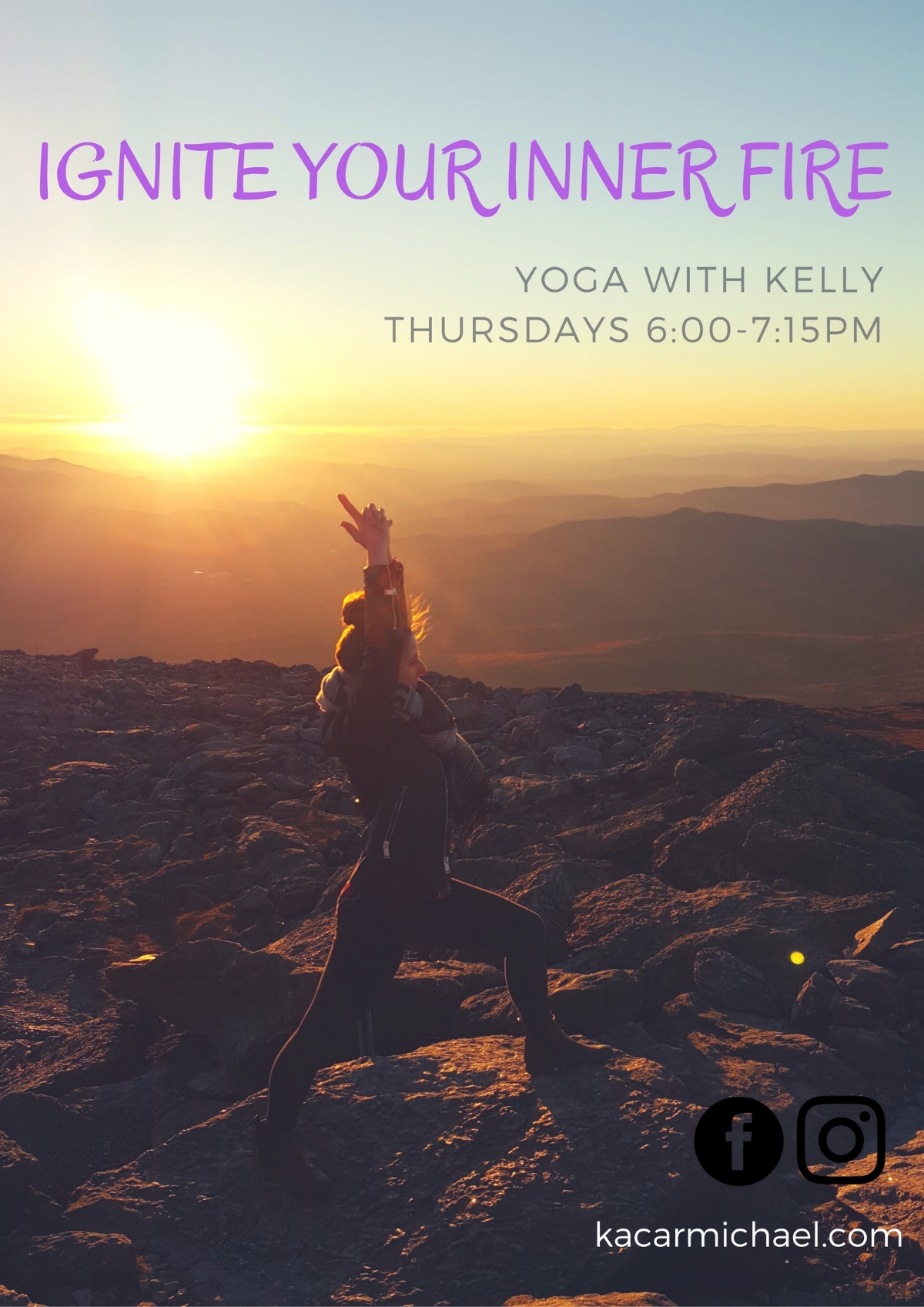 My poster assignment. Who wants to light their inner fire with me?
Our training also included a field trip to Castle Island in South Boston to take some amazing photos. It was so much fun to take our practice outside the studio and play around with poses to create some stunning images.
To finish up our time together, we created a class and took turns teaching our respective sections. We invited all our friends and family to come take the class and celebrate our accomplishments. It was such a beautiful day, even though most of us were nervous as hell, having this be the first time we taught anyone outside our little group. It was a huge success and beautiful to see each of us teach in our own style back to back. The class highlighted each of our unique personalities and the growth we had made from that first day.
For all the teachings, compassion, and guidance that they have provided, I am forever grateful to David Vendetti,Todd Skoglund, and my fellow teacher trainees for walking this path by my side. Your loving presence and kind challenges have helped create the yoga instructor I have dreamed of becoming. I learned so much from each of you and am thankful for all the support you offered. I hope to carry pieces from all of you within me forever.
Peace, love, namaste